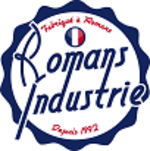 Romans Industrie
Makers of Orthopaedic Footwear
For more than twenty years, ROMANS INDUSTRIE has dedicated its time and energy to temporary orthopaedic footwear. Its main objective is to offer simple, comfortable and perfect-fitting footwear meeting the requirements of surgical teams and improving patient well-being.
ROMANS INDUSTRIE designs, manufactures and distributes medical shoes for treating all forefoot pathologies. Our head office in Romans-sur-Isère handles the entire life-cycle of its
shoes: design, prototyping, manufacturing and distribution.
17 avenue de la déportation,
26100 ROMANS-SUR-ISERE

Contact : Mr Agher

Opening times : 08.30-12.00 and 13.00-17.00

04 75 71 00 20